The largest event for Podcasting grew 400 percent this year. 
Without the option to meet in person, the IAB took the opportunity to extend the typically one-day Podcast Upfront across three days packed with virtual programming from 21 content partners and two podcast analytics firms. 
From Wednesday, September 9 through Friday, September 11, several themes emerged across all presentations. Diversity, explosive growth, and resilience. Actress and comedian Franchesca Ramsey hosted this year's event and kept the energy high between presentations with timely facts about podcasting and comedic anecdotes about life in 2020. Needless to say, she had plenty of material to work with. 
IAB Podcast Upfront Day One 
Day one kicked off with a presentation from Tom Webster of Edison Research. Tom shared findings from Edison's most recent Share of Ear report and announced that podcast listening now accounts for 1/8th of all audio listening by Americans. In other words, podcast listening has seen approximately 150% growth since 2014. 
Up next, NPR announced a new format in news reporting: a blend of local and national reporters to create the first localized daily news podcast. Leveraging technology from AdsWizz, "Consider This" listeners in or near Boston, New York, Philadelphia, Washington, D.C., Chicago, Minneapolis/St. Paul, Dallas, Los Angeles, San Francisco, and Portland, Oregon will hear a unique version of the news with reporting on their community from their community, alongside a national view from NPR. NPR plans to add additional participating Member stations in 2021. 
Additional presentations on day one included Entercom's Cadence13 and Pineapple Street Studios with announcements about their 2021 programming slate and a commitment to creating impactful brand advertising partnerships. Then AdsWizz confirmed the impact of Smart speakers on podcast listening, especially during the pandemic. Stitcher kicked off their presentation with celebrity hosts including Rob Lowe and Oprah. Then dropped new stats based on their brand lift study finding that host-read ads drive a 91 percent lift in response rates.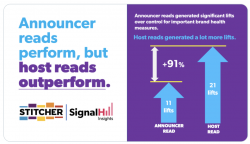 Day one continued with updates from Wondery who now delivers over 100 million downloads per month. WarnerMedia Podcast Network announced Shaquille O'Neal will be joining the network with his show, "The Big Podcast with Shaq." And with over 500 podcasts and 250 million monthly downloads, iHeartRadio committed to ensuring more diversity in 2021. 
In their first Upfront presentation ever Sony Music Entertainment closed out the day by announcing new diverse global audiences represented by the nearly 40 shows that it will be launching in the coming year.  
IAB Podcast Update Day Two 
Thursday was just as packed with presentations starting with ESPN who extended their sales portfolio across the Walt Disney Company to include ABC Audio, FiveThirtyEight and National Geographic. 
Barstool Sports touted their portfolio across lifestyle, comedy military and of course, sports. 
In ViacomCBS' debut appearance at the Upfronts, they announced accelerated investment in the space with new original programming, especially for kids, and renewals across brands CBS News, CBS Sports Digital, CNET, ComicBook, GameSpot, Giant Bomb, Comedy Central, MTV, Nickelodeon, PopCulture, SHOWTIME Sports, Star Trek, TechRepublic, ZDNet and VH1. 
Vox Media Podcast Network announced a timely new podcast in collaboration with Ben and Jerry's, "Who We Are: A Chronicle of Racism in America." American Public Media shared the story of Curtis Flowers, who was the subject of Season 2 of "APM Reports: In the Dark" and who was saved from death row based on information uncovered by the series. Acast and BBC shared their own life-saving moment made possible through the power of podcasting. Podsights found that podcast listeners are 79% more likely to buy than the average user, especially if they're exposed over multiple podcasts and publishers.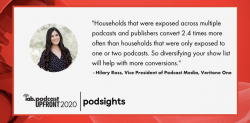 Pushkin Industries asked who would win in a cage match: Malcolm Gladwell or Ira Glass; the results are in. And finally, the New York Times closed out day two reminiscing about their ongoing partnership with Serial. 
IAB Podcast Update Day Three
The final day of the Podcast Upfront included Westwood One releasing the Fall 2020 Podcast Download Report. Then PMM announced many new shows including Russel Wilson's new podcast, "DangerTalk" that will also be on video on ESPN. Art19 announced a new lineup focusing on social issues and reminded attendees that they offer host-read ads across the full NBC Universal portfolio including shows from NBC Sports, NBC Entertainment, Bravo, Oxygen, SyFy and more. 
Authentic announced its lineup of new and diverse shows including "Unpacking America," a new podcast featuring Black thinkers, activists, and experts on the history of race and opportunity. 
Finally, Meredith Corporation closed out day three announcing a lineup from each of their magazines including a new daily gossip podcast from PEOPLE, InStyle's "Ladies First" podcast featuring candid conversations with "A-list badass talent," and All Recipes' "Homemade" podcast.
Summing up the 2020 IAB Podcast Upfront
With new shows from Oprah, Charlamagne tha God, and the "Tweet of Godcast," plus dozens of new celebrities entering the space, it is safe to say that podcasting has moved beyond emerging to a full-blown serious advertising channel. With all its challenges, 2020 has only helped to reinforce the importance of, and growth in diverse voices being consumed each month across millions of podcasts. This year undoubtedly was the biggest and most successful Podcast Upfront that the IAB has produced. It will be interesting to watch how the Podcast Upfront's continue to evolve given the IAB's new CEO, David Cohen's intention to unite the industry by combining future TV, digital NewFronts and Podcast Upfronts. Podcasting continues to stand out as the biggest area of audience growth in audio and the industry has a very bright future ahead.
Further Reading
Third Annual Podcast Upfront Social
Seven Takeaways from the IAB and PwC Annual Podcast Advertising Revenue Report
Recapping the Top Podcast Industry Changes of 2019
Feeling antsy? Tired of binging TV?